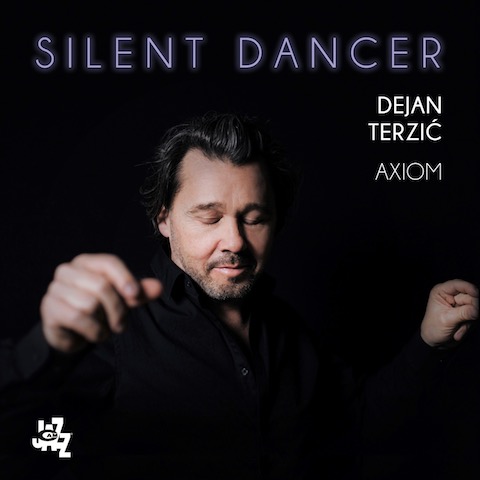 Release May 28, 2021

CAMJAZZ

CD Rlease : DEJAN TERZIC AXIOM : CHRIS SPEED, BOJAN Z, MATT PENMAN
DEJAN TERZIC AXIOM : SILENT DANCER

RELEASE DATE

28 May 2021

ARTIST: DEJAN TERZIĆ

album title: "Silent Dancer"

UNA GRANDE SQUADRA PER UN GRANDE JAZZ.

A GREAT TEAM MAKING GREAT JAZZ.

www.CamJazz.com  info@camjazz.com

Silent Dancer is the second CAM JAZZ album by award-winning Serbian-born drummer Dejan Terzić and his regular band Axiom. As on its predecessor Prometheus Terzic blends American jazz with European folk forms and other modern sounds, producing a sound that defies easy comparison but claims the adjective... Axiomatic.

Joining Terzić again are saxophonist Chris Speed, one of the most admired instrumentalists on the present scene, pianist Bojan Zulfikarpašić, who is himself a seasoned leader, and bassist Matt Penman, whose work goes beyond dependability. Together they realise Terzić's distinctive compositions in a style that is unique and instantly recognisable.

Drummer-led groups are sometimes all about the drums. This one is all about the music. Silent Dancer will transport you from the very opening track. (Brian Morton)

Under the supervision of music producer Ermanno Basso, Silent Dancer was recorded and mixed in March 2020 by Stefano Amerio at Artesuono Recording Studio in Cavalicco (UD), Italy, and mastered by Danilo Rossi.

° ° °

Silent Dancer è il secondo album pubblicato con CAM JAZZ da Dejan Terzić, pluripremiato batterista di origine serba, insieme ad Axiom, la band che lo accompagna stabilmente. Come nel precedente album intitolato Prometheus, Terzić fonde il jazz americano con la tradizione popolare europea e altri sound moderni, creando una musica che sfugge al tentativo di facili paragoni ma rivendica, in un gioco di parole con il nome del gruppo, l'attributo di... assiomatica.

Ad affiancare Terzić sono ancora il sassofonista Chris Speed, uno dei più apprezzati professionisti dell'attuale scena musicale, il pianista Bojan Zulfikarpašić, a sua volta leader di lunga esperienza, e il bassista Matt Penman, il cui contributo va oltre la semplice affidabilità. Insieme eseguono le caratteristiche composizioni di Terzić con uno stile unico e immediatamente riconoscibile.

Spesso i gruppi capitanati da un batterista sono tutti incentrati sulla batteria. Questo è tutto incentrato sulla musica. Silent Dancer vi trascinerà fin dal primo brano. (Brian Morton)

Silent Dancer è stato registrato e mixato a Marzo 2020 da Stefano Amerio presso gli studi Artesuono di Cavalicco, con la produzione artistica di Ermanno Basso. Il mastering è stato curato da Danilo Rossi.

GENERAL CREDITS

SILENT DANCER

Dejan Terzić Axiom

1. Silent Dancer

2. Synchronicity

3. One Shot Not

4. Rêve De Voler

5. Apollo

6. Typewriter

7. Mysterious Life Of Blowfish

8. Outcry

9. Poème

10. Chimaera

All music by Dejan Terzić

All tracks © KEPACH Music S.r.l.

(p) 2021 KEPACH Music S.r.l. Under License by CAM CINE TV MUSIC, Inc.

Chris Speed tenor sax

Bojan Zulfikarpašić piano & fender rhodes

Matt Penman bass

Dejan Terzić drums & percussion

Artistic Production Ermanno Basso

Recorded and mixed in Cavalicco (UD) in March 2020 at Artesuono Recording Studio

Recording & mixing engineer Stefano Amerio

Mastered by Danilo Rossi

Photos © Elisa Caldana

UNA GRANDE SQUADRA PER UN GRANDE JAZZ.

A GREAT TEAM MAKING GREAT JAZZ.

www.CamJazz.com ? info@camjazz.com

T