MELANOIA : WEIDNER I DUMOULIN I GRAUPE I TERZIC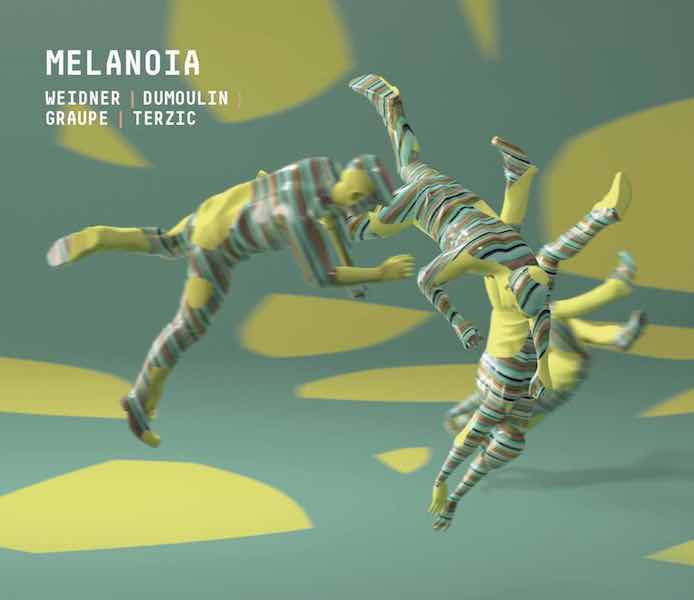 CHRISTIAN WEIDNER sax

JOZEF DUMOULIN  pno, fender rhodes

RONNY GRAUPE  git

DEJAN TERZIC dr/comp

Release APRIL 2018

BMC RECORDS

CD Rlease : MELANOIA : Weidner I Dumoulin I Graupe I Terzic
DEJAN TERZIC MELANOIA :  Liner notes Henning Bolte, Amsterdam

Pan-European

Dejan Terzic is one of the few truly European musicians. Grown up and educated in Germany he made his way through pan-European and multi-stylistic collaborations from the very beginning in the 90s. He molded his very own style of expression along routes to the North and the South of Europe including collaborations with New Zealand and American musicians to finally integrating it with the primal musical ground of his Serbian origin in the East of Europe. He is now on a label from Hungary's capital Budapest, resides in Berlin and teaches in Bern, Switzerland. Terzic started Melanoia in 2012 and earned the German Grammy, Echo-Award with Melanoia's debut album as Best German Drummer in 2014.

The album Gravity is the successor of the album Red, Music by Luzia von Wyl (BMC CD 238) that presented music by young Swiss composer Luzia von Wyl performed by Terzic's Melanoia together with French (improvising) string quartet IXI. On this album Terzic relies on the rapport of his seasoned (Berlin-)crew of 7-string guitarist Ronny Graupe and alto saxophonist Christian Weidner. He also joins forces for the first time with totally wired keyboard wizard Jozef Dumoulin as trailblazer in the sonic wilderness. Dumoulin is a Belgian musician, who has a strong presence in the French jazz-scene. He is a true and bold innovator of the fender Rhodes (witness his fender rhodes solo-album) and has extended its use considerably. Graupe and Weidner are (inter)nationally busy mainstays of the Berlin-scene: Graupe as leader of his own group Spoom and among others as member of Hyperactive Kid together with Christian Lillinger and Philipp Gropper, Weidner as leader of his own groups and as member of German bassist Robert Landfermann's group and the trio of harpist Kathrin Pechlof. Both have been long-term associated to German Pirouet label.

Layers, crossfading, dissolution, resurrection

The entanglement of melancholy and paranoia, of dream and observing your own dreaming, becoming aware of your self and being yourself, the shifting, crossfading states of mind between dream, daydream and waking state became a leading inspiration and thematic basis of Dejan Terzic's creative work in music. When you look at his compositions for Melanoia through the years he seems to be obsessed with the phenomenon of dreaming and in relation to what we conceive as reality.

One of his key pieces from the recent past is "Traum im Traum/Dream in a Dream" indicating a constellation of overlapping, crossfading states of mind that you can also find in the work of Serbian writer Danilo Kis. In his novel Basta, Pepeo/Garden, Ashes Kiš he for example describes how a child struggles to see and catch the angel of sleep at the threshold of falling asleep.

For Dejan Terzic a central key to deal with this existential experience in artful reflection and expression, is rhythm: rhythm to keep things together in dynamic, unifying ways when things start to drift, cross-fade or fall apart, when parts collide or entangled opposites threaten to suck each other's energies. Rhythm canalizes collisions' energies to rise from the ashes. Terzic developed this artful game as

a distinct, passionate musical expression of reality. The album's piece "Metanoia" is a strong specimen of it. Its splendid bouncing ostinato, its vibrating horizon and infectious, its rousing stop-and-go is quintessential Terzic. It could go on as fully saturated climaxing groove but in the hands of Terzic and his fellow musicians it slightly topples and starts shifting unpredictably.

For Terzic reality has many competing and complementing layers, perspectives, faces, passages, wavelengths and sound prints. Musically he gives it shape and expression by turning the inside out and also by way of transcendental collision, all hold together and transported by his incisive odd meter rhythms, a strong, liberating force bringing forth concise and captivating leitmotifs. The eye blinding glistening and the dark, the idyllic, serene and the strident go hand in hand in his universe thereby feeding the phantasmagorical sense of his listeners. Out of losing oneself, out of juggling opposites and antinomies the forces of unification rise.

As a consequence Terzic's Melanoia never takes the straight beaten track. "Coalescence" for example is a lyrical piece with traces of Lee Konitz in Weidner's voicing but it is based on a charmingly rotating motif with a funny buzzing bass ping-ponging with the drums from underneath. The piece moves up and down, explodes, scratches and stays sharp. It never meanders as cultured jazz.

Motley panorama

The album offers a motley panorama of shadowy, shifting, blazing, rotating, hip-hopping, choo chooing and grandly waltzing affairs. It starts with a master-piece of disorientation, a kind of Phil-Glass-On-Speed music that all of a sudden, as if a flap has been pulled up, finds itself in a creepy wondrous vault, strongly reminding of the movable mystery worlds of Serbian choreograph/dancer Josef Nadj - bewildering and beyond Balkan-clichés. It ends with a majestically hanging pendulum piece, very spacey, tranquil and slightly ambiguous in mood. The piece conjures the sphere of Balinese Wayang shadow theatre. Weidner brings in the drama and the rattling voices, Graupe supplies sparse, extraordinarily delicate guitar fills - a natural Ausklang of a kind for the album.

Melodic trail, metamorphosis, carrying rhythmic complexity

You can expect the unexpected throughout the whole album. It is however anchored in known sensations and experiences and based on a confining dramaturgy of moods, of transitions and resurrection, which keeps up tension and provides significance. "Trainride" for example is based on an everyday rhythmic pattern we all know and have listened to more or less consciously. The piece reminds of the overlapping polyrhythms of Hungarian composer Laszo Sary, especially his "Lokomotiv Szimfonia" (BMC CD 218). It is an item not only for Dumoulin to solo in context. Graupe and Weidner do their solos in duet. The piece is interlocking in a fluent way: guitar and drums play a rhythm in rapid 5, the fender Rhodes moves left hand in 3 and right hand in 7 and the group is morphing altogether into 7 finally suggesting a light samba feel. Terzic and his fellow musicians are not afraid to go to outer edges but never get lost in formal exercises.

The album is spiced with surprise instead as the ear ringing "UCB" with its a wonderful loose waltz feeling – a kind of last dance at the end of a long wedding party night. It is a great open space for Ronny Graupe's effervescent guitar and Weidner's beguiling alto. The music is almost melting away were it not that Dumoulin's slightly surrealistic solo brings it back for an orderly confining move.

The joyful game of building and keeping up tension between clear melodic trail, unforeseen sudden turns and surprising resurrection, is at the center of this album. It is done in an inviting agile, coherent and beautiful way to ignite and connect with the scenic imagination of listeners.

Tracklist

1. Schnell

2. Metanoia

3.MPO-3

4.Gravity

5.Coalescence

6.UCB

7.Trainride

8.B-Longing and Beyond

All compositions Dejan Terzic

Aufgenommen am 10/11/12 Januar 2018 in Budapest/BMC.

Llne-up

Christian Weidner: altosax

Jozef Dumoulin : piano&fender rhodes

Ronny Graupe : 7 String Guitar

Dejan Terzic : drums/glockenspiel