Dejan Terzic
Melanoia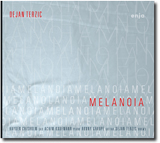 HAYDEN CHISHOLM sax 
RONNY GRAUPE guitar 
ACHIM KAUFMANN piano 
DEJAN TERZIC dr | perc | comp 
Released 01.03.2013  
ENJA RECORDS 
CD PRESENTATION MELANOIA ENJA-Rercords
….Daydream, night dream, nightmare, short dream, ideal dream .... 
These are the subjects which are grappling MELANOIA, founded in summer 2012 by drummer and composer Dejan Terzic. The drummer and Germanπ culture award winner presented itself in recent years with his acclaimed project "Underground" and presented his latest Cd "Diaspora" which was released by the label ENJA Records. As a Drummer he has been touring and recording with many international acclaimed artists and has been a very demanded drummer on the european Jazzscene since the last 15 years with over a hundred recordings. 
The newly founded ensemble "MELANOIA" deals with musical linkages, gears, dream wise, day-and nightmares and complex structures and free forms. The Ensemble deals with a range of subjects extended from shapes of dreams, in its infinite number of profound and intangible aspects. Between these structures and formations free shuttles the quartet, which is manned by four strong individuals, each one of them belonging to the top european Jazz scene.These four mark the music and the highly original compositions, and each one of them has made his way through years of recording projects and bands and are now special musical figures on the international scene. The quartet recorded his first CD in the summer of 2012, which will appear in spring 2013, also on ENJA Records. Dejan Terzic is nominated for the BMW Jazz Award 2013, "Leading Drums". 
Hayden Chisholm (alto saxophone)
Hayden Chisholm (* 1975 in Otahuhu in Auckland) is a New Zealand jazz saxophonist, clarinetist, and composer. Chisholm grew up in New Plymouth. He studied music in Switzerland, Greece, India, Yugoslavia, Japan, and finally in Cologne, etc. at Gratkowski. Here he was in the 1990s,when he started playing with Nils Wogram Root 70 and that collaboration to this day continues (2011). Since 1995, he undertook concert tours in India, Europe, Africa and Latin America, including with John Taylor. Since 2002, Chisholm is working along with the performance artist Rebecca Horn, for their installations "Light imprisoned in the belly of the whale" (2002), Spiriti di Madre Perla (2002) and Moon Mirror (2003), he composed the music. He works in the project together with Marcus Schmickler Amazing Daze and forms with Gareth Lubbe and Claudio Bohórquez the improvising trio DOHA, with whom he also extended his Root 70 The Embassadors. In 1996 he released his debut album Circe. He also appeared as a saxophonist, clarinetist, and sometimes keyboard player on albums by Sebastian Gramss' Underkarl, Antonis Anissegos, David Sylvian, Burnt Friedman, Jaki Liebezeit and others. 
Achim Kaufmann (piano)
Achim Kaufmann (* 1962 in Aachen) is a German jazz pianist. Kaufmann lived since 1984 in Cologne, where he studied at the Conservatory with Frank Wunsch and Rainer Brüninghaus. This is followed by a study completed at the Banff Centre for the Arts in Canada with Dave Holland, Steve Coleman, Muhal Richard Abrams, George Lewis and Richie Beirach. He also took private lessons with Steve Lacy in Paris. In the 1980s, he worked with various bands. Since the 1990s, the process of composition was for his own groups in the foreground. In trio with Gratkowski and Wilbert de Joode he played the CD kwast and unearth. He also works with a trio with Michael Moore and Dylan van der Schyff and led a piano trio with Ernst Glerum and Han Bennink. In 1996 he moved to Amsterdam, where he has lived with his wife, the Canadian artist Gabriele Guenther. There he founded in 1998 with Michael Moore, John Schroeder and John Hollenbeck, the quartet Double Exposure. In 2001 he was awarded the SWR Jazz Award. In addition, he performs as a soloist. On behalf of the Germany radio he composed for string quartet and four improvising musicians. In addition Kaufmann worked with Tomasz Stanko, Mark Helias, Bill Elgart, Matthias Schubert, Michael Vatcher, Dieter Manderscheid, Thomas Heberer, Brad Turner, Eric Boers, undJulian Steve Argüelles, Steve Swallow, Al Foster, Richie Beirach, Franco Ambrosetti, Adam Nussbaum, Charles McPherson, Bob Brookmeyer, Lee Konitz, Paul Lovens, Tristan Honsinger, Misha Mengelberg, Peggy Lee, Torsten Müller, Lori Freedman, Hasse Poulsen, David Stackenäs, Dresser From Baars, Wolter Wierbos, Andy Moor, Tobias Delius, Paul Rutherford, Wolfgang Fuchs, Mark , Lê Quan Ninh, Håkon Kornstad, Gino Robair, Phillip Greenlief, Harris Eisenstadt, Ron Samworth, Mary Oliver, Alex Waterman, Maartje th Hoorn, Felicity Provan, Raoul van der Weide, Ig Henneman and Hans Burgener. 
Ronny Graupe (guitar)
Ronny Graupe's (* 1979 in Karl-Marx-Stadt) is a German jazz guitarist. Graupe, who was honored in 1997 at the Jazz Youth Festival Leipzig and completed his studies at the Academy of Music and Theatre "Felix Mendelssohn Bartholdy" in Leipzig. He mastered from 2002 to 2003 in Copenhagen at Rytmisk Conservatory. In parallel, he played from 1998 to 2001 in the German Youth Jazz Orchestra. Since 2002 he is playing with Christian Lillinger and Philipp Gropper in the trio "Hyperactive Kid", which presented (2010) four albums. Next, after moving to Berlin, he immediately emerged into the Berlin Jazz scene,playing with Oliver Schwerdt, Kalle Kalima, Carsten Daerr, Tyshawn Sorey, Frank Möbus, John Schroeder and Rolf Kühn, but also in projects with Ulrich Kempendorff, Wanja Slavin, Henning Sieverts and Johannes Lauer. He has toured in central Europe, Spain, France, Italy, England and Venezuela. In 2001 he won the junior jazz scholarship from the Marion Ermer Foundation Leipzig. 
Dejan Terzic (drums, composition)
Dejan Terzic (* 1970 in Banja Luka) is a German drummer belonging to Modern Creative Jazz. From 1990 he studied at the Nuremberg Conservatory and in the year 1991 he changed to study with Bill Elgart at the University of Wuerzburg.In the years to follow he pursued further studies in New York with Marvin Smitty Smith, Bill Stewart and Duduka da Fonseca and the Vermont Jazz Center with Jimmy Cobb and Attila Zoller. Between 1992 and 1996 he was a member of the Dusko Goykovich Quintet which would appear internationally. In the late 1990s he was a member of the trio of Antonio Farao with whom he did several recordings and tours internationally. From 2000, he was in the Bands of Bob Berg, Franco Ambrosetti, Enrico Rava, Jens Winther and Nils Wogram with whom he also recorded numerous CDs. He is considered one of the most sought after drummers in the international jazz scene, and has played with many international jazz greats such as Joe Lovano, Lee Konitz, Attila Zoller, Bob Berg, George Garzone, Tim Hagans, Enrico Rava, Paolo Fresu and more. He played worldwide on all major international festivals, in addition, he can be found on nearly 100 CDs. In his underground group formed in 2002 (initially with Chris Speed, Möbus and Mark Helias), he deals with Balkan folklore. Terzic, who has won the "best drummer" award on quite a few festivals, was later the winner of the 1997 Cultural Prize of the City of Nuremberg. In 2004 he received the Culture Prize from Bavaria/Germany. In 2013 he is nominated for the prestigious BMW Jazz award "Leading Drums" next to Jim Black, Ari Hoenig,and Antonio Sanchez. Dejan Terzic was awarded with the prestigeous ECHO Jazz Award for Best Drummer National in 2014.