Underground
Diaspora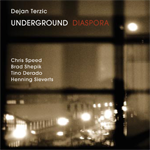 CHRIS SPEED sax | cl 
BRAD SHEPIK guitar 
TINO DERADO acc 
HENNING SIEVERTS bs | vcl 
DEJAN TERZIC dr | perc | comp 
Released 15.01.2010  
ENJA RECORDS 
CD PRESENTATION DIASPORA ENJA-Rercords
"A diaspora (in Greek, διασπορά – "a scattering [of seeds]") is any movement of a population sharing common ethnic identity. While refugees may or may not ultimately settle in a new geographic location, the term diaspora refers to a permanently displaced and relocated collective." 
Diaspora is a large word and it needs to be handled very carefully; in this context I try to view it as a musical diaspora. 
Being born in a country that no longer exists compels you to address certain issues, especially if you operate in the domain of folk music and folk culture in general. In terms of music, I have never believed in authenticity, or in the importance of emulating specific musical approaches when playing songs born out of the Balkan folk tradition. Furthermore, I have come to understand that a real musical diaspora is something one can create by oneself, in an awareness of tradition and history. While the first two albums recorded with the band Underground experimented with traditional folksongs, it was immensely important to me to create and write my own songs and compositions in a sort of diasporic understanding. 
A diaspora often tends to assume a different course from that of the population in the original place of settlement, expostulating the authenticity of its own culture in the process. Such developments, in my view, owe more to a notional image of a culture than to a realistic view. Reared and nurtured on nostalgia, they are expressive of a longing for a time and a place that, in most cases, no longer exists. In my world, I have simply tried to absorb as many influences from Balkan folk music as it has been my fortune to encounter, finding my personal musical bearings through the medium of my own compositions and creating an individual musical diaspora; the only difference to the general understanding of a diaspora being that I would never consider this recording as forming part of the Balkan folk music culture/tradition. Other than that, it's just some simple ideas about music. 
Dejan Terzic