DEJAN TERZIC QUARTET
FOUR FOR ONE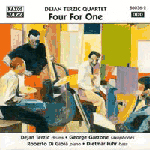 GORGE GARZONE tenor | soprano sax 
ROBERTO DI GIOIA piano 
DIETMAR FUHR bass 
DEJAN TERZIC drums 
The new generation of jazz drummers have finally found their way into the spotlight and refuse to reduce themselves to the ranks ot obedient sidemen. This new stance has spawned a surprising side effect. In the not so distant past, it was nearly obligatory to use sheer volume as the means ot gaining attention. Today's drummer, in the foretront and fully aware of his responsibility to the music, treads lightly through this new awareness. As bandleader, musical director and catalyst, the new drummer sits at the command of the structural dynamics! Quite an intimidating course of events… one could easily forgive our apprentice leader for sub-conciously retreating in light of such responsibilities. We need look no further than the current plethora of drummer-led productions in which the protaganist looms so far in the background that the listener can only guess who's in charge! A fortunate exception is this first offering from 28 year old German drummer/composer/big band leader Dejan Terzic. 
A resident of Nürnberg since 1990, Dejan attended the renowned "Meistersinger konservatorium", where he studied Jazz and Modern classical music. Initially undecided in his preferences, Dejan travelled to New York in the summer of '91. There he signed up at the Vermont Jazz Center, run by legendary jazz guitarist Attila Zoller and made quick acquaintance to the residing jazz greats, including Jimmy Cobb, Tal Farlow and Don Friedman. It was Zoller, however, who initiated Dejan into the magic of improvised music. 
In New York City Dejan applied to the "Drummers Collective" and studied there with Marvin "Smitty" Smith and Mike Clarke, as well as Bill Stewart. Back in Germany he resumed studies at the "Wurzburg Konservatorium" with drummer Billy Elgart, joined the Bavarian Youth Jazz Orchestra, jumped into his first professional gig in saxophonist Hubert Winter's quartet, joined the German Youth Jazz Orchestra under the direction of Peter Herbolz-Heimer and began to record with a number of groups, including the sextet "Ugetsu". The recipient of several awards ("Best drummer" at the newcomers jazz festival in Krakow,Poland 1994 ; "Best musician" at the international jazz festival in Oberkochen, Germany 1995 ; 1st place at the newcomers jazz festival in Leipzig, May 1995 ; the city of Nürnberg's cultural prize in 1997) Dejan consolidated his many talents with the formation of his own "Sunday Night Orchestra" in 1994. The CD you hold in your hands represents the latest chapter in a steady stream of mile-stone achievements. Dejan's dream band performing his personal favorite tunes! With George Garzone, Dejan has acquired the services of one of the most exciting tenor players of our time. The high school teacher from New York has led one of the music's longest surviving free jazz trios "The Fringe", as well as enjoying long musical associations with such esteemed colleagues as Mike Manieri, Peter Erskine, Joe Lovano, Daniel Humair, George Russell and Eddie Gomez. The apparent ease in which he straddles stylistic boundaries between straight ahead and the avant garde has influenced a new generation of saxophonists. George's strong, individual and, above all, uncompromising sound is an integral factor in the soundscape of all eight titles. Born in Italy, pianist Roberto Di Gioia represents one of Europe's most versatile and expressive keyboardists. Witness here a major stylist at work with limber, fanciful lines supported by churning block chords. Bassist Dietmar Fuhr from Cologne, checks in as the ideal point man with a huge tone and an undeniable presence. And there you have it, a musician's quartet born out of a fortuitous performance at the 1998 East-West jazz festival in Nürnberg; who, recognizing a common bond, assembled to document Dejan Terzic's originals, Childish Things, Big Argument, Loose Ends, and Four For One as well as carefully chosen standards Night's Shadow, Spartacus (an adaptation of Maria Schneider's big band chart on "Love theme from Spartacus") Green Dolphin Street, and the ballad, My Romance (a request of George Garzone's) in their undeniably striking manner. 
Reinhard Köchl, jazz writer - contributor to Jazz Thing, Jazzpodium, Jazzthetik, Scala. 
allaboutjazz.com
"Four For One" Dejan Terzic Quartet | Naxos Jazz 
28-year-old drummer, Dejan Terzic displays star qualities on "Four For One". Terzic, has been the recipient of numerous awards and here with his Quartet featuring the superb saxophonist George Garzone, also emerges as a mature bandleader. On the opener and Terzic original, "Childish Things" Terzic commences with some cool drum licks as he displays good textbook style discipline and a keen sense of swing. Terzic's composition titled, "Big Argument" is post bop modernism at its finest. George Garzone blows the walls down with blazing tenor work as Terzic and bassist Dietmar Fuhr keep this train a rolling'. Terzic is a well-schooled technician and has obviously paid much attention to the masters of years gone by. His drumming is characteristically crisp, multi-textured and dynamic while seldom overstating his cause or plight. Another Terzic original composition "Loose Ends" features Garzone's lyrical and melodic phrasing on soprano sax as the end results prove to be straightforward and succinct. Here, pianist Roberto Di Gioia provides tonal color and understated accents via a light touch and warm sonorous chord progressions as the potent rhythm section shift tempos. The mood thus far could be categorized as being positive and exuberant. On "Night's Shadow" The Quartet rekindles memories of Coltrane's early-mid 60's Quartet as Garzone renders a gutsy, soul searching and borderline free-jazz tenor solo. Terzic may have had Elvin Jones in mind on this uptempo piece. The title track, "Four For One" commences with a relatively complex introduction as the band performs several bars in unison. Again, Garzone leads the attack with soaring, fluent and highly emotional tenor work. Pleasant renditions of Rodgers & Hart's "My Romance" and Washington & Kaper's "Green Dolphin Street" mesh well in the overall mix. Four For One is a no frills, extremely focused and to-the-point affair. Again, the talent scouts over at Naxos Jazz should be commended. Recommended * * * 1/2 
Glenn Astarita 
Formby Times
"The Naxos company continues to record lesser-known but highly accomplished jazz musicians and to sell their CDs at the bargain price of around five pounds per album. The quality of the music is always of the highest level and these selections, recorded in May of last year in Germany, show a quartet which has absorbed the best of the 60s jazz tradition but who produce contemporary work that combines quality of playing with complex improvisations. Another intriguing release from this company." 
Formby Times, September 23, 1999 
Sunday Herald Sun
"Led by drummer Dejan Terzic, the quartet uses a post-bop foundation to create music that bristles with an adventurous spirit, wit and edgy excitement. Terzic leads boldly without ever becoming overbearing. He is wonderfully aided in that great magic endeavour - combining recklessness and discipline - by saxophonist George Garzone, pianist Roberto de Gioia and bassist Dietmar Fuhr. The program is split between invigorated standards such as My Romance, Green Dolphin Street and Spartacus Love Theme and originals that are both stroppy and sensitive. The solos are grand, but it is the ensemble playing that makes this listening such an enjoyable encounter." 
Kenny Weir (Australia), Dec 26, 99. 
The Irish Times
"The Sheer quality of this budget release may surprise anyone unfamiliar with the comparatively little known talents involved. Leader Terzic is a hugely impressive, very musical drummer who has been garnering awards on the Continent, Robert Di Gioia an accomplished pianist who has clearly listened to Herbie Hancock and the bassist, Dietmar Fuhr, a rock-solid player who has recorded with Dave Liebman. Best of all is the saxophonist; Boston-born George Garzone, on tenor and soprano, is absolutely brilliant, a big-toned, confident, imaginative soloist who bears traces of Coltrane and Rollins in his playing without sounding derivative. The material, three standards and five originals, shows the scope of an excellent, multi-national quartet which sounds like a working group." 
Ray Comiskey (Dublin), Aug. 13, 1999 
JAZZ USA
"Another unexposed talent steps out of the shadows by way of NAXOS Jazz, who for the past year has steadily been releasing some of this year's most accessible music and doing so at mid-line prices. Dejan Terzic, a 28-year-old European drummer, would not be known from Adam here in the U.S., but with the advent of his new album, Four For One, a quartet date featuring saxophonist George Garzone, pianist Dietmar Fuhr, and pianist Roberto Di Gioia, Terzic may finally make some noise stateside. Terzic has chops as a composer. The leader's melodic sense coupled with Garzone's mellifluous tone creates an ideal scenario for Terzic's two most interesting originals, "Childish Things" and "Big Argument." The young drummer also has well-developed ideas as evident by his brisk changes and his crisp comping on "Night's Shadow." Terzic's fine treatment of "Spartacus Love Theme" is also quite impressive. Accompanying Garzone, who switches to soprano, Terzic draws the listener in with his sincere brush sentiments. An intriguingly entertaining album, Four For One is a solid record on every count." 
Fred Jung, June 1999